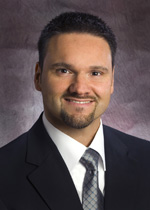 Vincent (Vin) M. Garcia, CPA, CGMA, began his professional accounting career with the Firm in 1992, following his graduation in 1991 from Millersville University of Pennsylvania.
After gaining valuable experience with other companies, Vin rejoined the Firm as a partner in 2002, and has been instrumental in both the Firm's expansion and its embrace of new technology. Vin attends continuing education courses each year, with emphasis on issues faced by local governments and non-profit organizations. He also stays on top of changes related to annual personal and corporate tax changes. He is a member of the Pennsylvania Institute of Certified Public Accountants and the American Institute of Certified Public Accountants.
Vin finds time to be active in the community. He serves as a board member of the East Region of WellSpan Health, a regional health system, and board member of the Lebanon Foundation, a local non-profit focused on issues related to downtown Lebanon City. He is the past treasurer of the Community of Lebanon Association (CLA), an organization devoted to the promotion and improvement of Greater Lebanon (2005-2019), and past treasurer of Community of Lebanon Homes, Inc. , a housing provider for seniors, the disabled, and disadvantaged (2009-2014).
Garcia devotes quality time with his wife and children, and resides in South Lebanon, PA.
Angela (Angie) K. Shea, CPA, was born and raised in Lebanon, PA, and has always resided in the area. As a young person Angela attended Salem Lutheran Church in Lebanon with her family and was very involved with music and academic clubs while in school. It was during her high school years that she became interested in the field of accounting and pursued a part-time job with an accounting firm that happened to be next door to her parent's business.
After graduating from Lebanon High School, Angela attended Lebanon Valley College and then earned her Bachelor of Science in Professional Accountancy from Penn State University in 1989. After a few years working in a Harrisburg-based accounting firm, Angela passed the CPA exam in 1991, at which time she started her own small firm in Lebanon, PA, concentrating on the tax and accounting needs of her clients both in Lebanon and Harrisburg.
In 2010 Angela merged with the accounting firm, which incidentally was where she started her accounting career while still in high school, and became a partner in the present day firm of Garcia Garman & Shea, PC with offices in Lebanon and Lancaster. Garcia Garman & Shea, PC is an accounting firm with 50 plus years of experience in helping solve the Tax, Accounting, Auditing and Consulting problems of their clients.
Angela began offering professional investment services in 2005 to better serve her tax and accounting clients. In 2012, she became an Investment Advisor Representative with Ambassador Advisors, LLC (www.ambassadoradvisors.com) located in Lancaster, PA.
In her free time Angela enjoys reading, music, theater and playing tennis, as well some get away time in North Carolina's Outer Banks. Angela lives in Mt. Gretna with her husband and three daughters.
For more information please call the Lebanon office at 717.274.5600.
IMPORTANT NOTE: Securities, annuity and insurance products offered through American Portfolios Financial Services, Inc. (Holbrook, New York, 631.439.4600), member FINRA, SIPC. Investment Advisory Services offered through Ambassador Advisors, LLC. Ambassador Advisors is not owned or operated by American Portfolios Financial Services.
Kelly A. Miller, CPA, began her professional accounting career with the Firm in 1991, following her graduation from Penn State University. During her early career in public accounting, she gained experience in taxation and auditing.
Kelly worked in public accounting for several years and then entered the private sector, working for several local manufacturing and consumer goods distribution companies. She gained valuable hands-on experience managing staff and working closely with the board of directors in the roles of Accounting Manager and Controller. These roles helped to enhance her accounting knowledge while gaining valuable experience in management and human resources.
In 2015, Kelly rejoined the firm and has enjoyed building relationships with clients and assisting them with their tax, accounting and audit needs. Kelly makes it a priority to stay on top of the ever-changing accounting, auditing and income tax regulations by regularly attending continuing education courses. She is also a member of the Pennsylvania Institute of Certified Public Accountants (PICPA) and the American Institute of Certified Public Accountants (AICPA).
Kelly and her husband reside in North Cornwall Township. She is a member of the Hershey-Palmyra Sertoma Club, enjoys gardening and outdoor activities, and is an avid tennis player who is active in the USTA.
Matthew (Matt) P. Garman, CPA, attained his Bachelor of Science in Professional Accountancy from Penn State University in 1994. He then gained valuable experience early in his career with auditing responsibilities for large government entities, school districts, and manufacturing entities, while working for his first professional employer KPMG, LLC in Harrisburg.
A Lebanon native, Matt returned to his roots by joining Aungst & Co. PC, a firm he then purchased. Two years later, he joined Jim Faren and Vin Garcia, and continues with the Firm as it exists today.
Matt is also active in the community. He is currently treasurer of the Lebanon Lions Club and the Lebanon Lions Foundation, the charitable arm of the Club. Garman was instrumental in creating this Foundation.
Like his partners, Matt devotes part of his professional time to continuing education. He is currently enrolled in numerous tax related seminars. He lives with his wife and two sons in North Lebanon Township.
STAFF
One of the key strengths of trusting Garcia Garman & Shea to serve you is your opportunity to interact with our outstanding staff. You will be pleased with the support our experienced team provides. They are an invaluable resource for our Principals, and for you!